Schöck Structural Thermal Breaking
Schöck specialise in providing solutions for thermo-breaking and dew-point shifting in structural (load-bearing) building components.
Schöck has been the world leader in thermo-breaking solutions for concrete and steel structures since 1962.
Schöck Novomur
The Schöck Novomur is a thermally-broken, load-bearing insulation element, which is used around the entire perimeter of the building's foundational slab to ensure thermal disconnection between the building and the earth is achieved. Novomurs are also suitable to support and thermally disconnect slab pillars from the earth.
Schöck Novomur is the energy saving keystone for modern buildings. In comparison to brick and blockwork, which has thermal conductivity of approximately 1.0 W/Km, the thermal conductivity of Novomurs is only around 0.286 W/Km (a reduction of 75-80%).
The thermal outflow is therefore reduced to a minimum and the associated dangers of mould formation and structural moisture damage is as good as eliminated. The element is made to suit all standard wall thicknesses, and to a standard length of 750mm. Meaning of course, no straight joints. The toothed structure of the elements ensures good bonding too. All of which means that they can be laid with normal or thin-bed mortar.
Schöck Novomur is classed as brick/block density class 20.
Isokorb
Typical balconies and cantilevered construction elements which project through the thermal building envelope, thus breaking the seamless insulation layer, are notorious for creating thermal bridges.
The legendary and innovative Schöck Isokorb, with its advanced thermal break module, virtually eliminates thermal bridging while transferring load and maintaining full structural integrity. The Schöck Isokorb is the only element of its type to be accredited by the German Passivhaus Institute.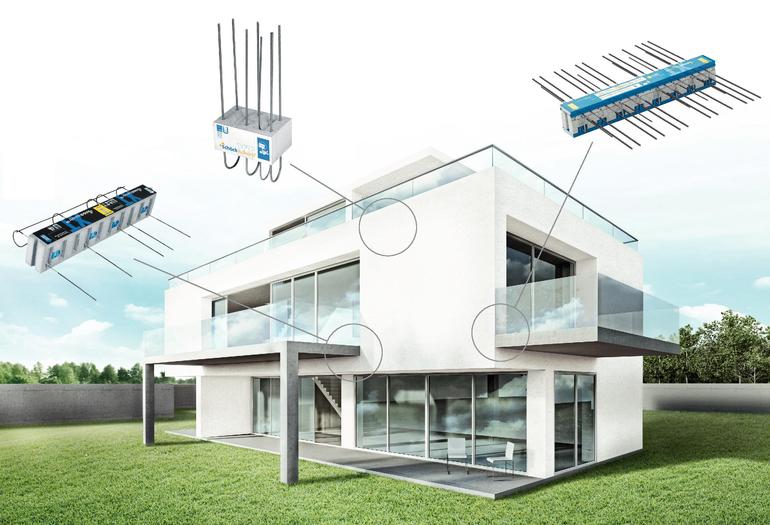 Above are some samples from the Isokorb range demonstrated on a home with minimised thermal bridges:
The Isokorb QXT (left) is a thermal break solution for structurally supported balconies.
The Isokorb AXT (centre) is a thermal break solution for parapets & balustrades.
The Isokorb KXT (right) is a thermal break solution for cantilevered balconies.
ComBAR
Schöck's glass-fibre reinforced polymer reo ComBAR, is resistant to chemicals and neither magnetically nor electrically conductive. ComBAR provides unique structural solutions for corrosion-free reinforced concrete structures, insulated sandwich concrete tilt-up walls without thermal bridges, eddy-current structural foundations, and much more.
Official Schöck Thermal Bridging Calculator