Why Choose LAROS Technologies?


WE ARE PASSIONATE ABOUT BETTER BUILDINGS
As an established construction supplier we have a proven record of accomplishment in Australia and New Zealand. All projects are treated with utmost professionalism and all materials are of the highest quality. Technical knowledge, highperformance products and customer support are the key quality values of LAROS Technologies.



 WE ARE AN ETHICAL SUPPLIER
Integrity above all else. LAROS Technologies fosters ethical behaviour in all aspects of advice, sales, design, and supply. This is shared within our supply chain from suppliers to contractors & end users alike.



 
WE BELIEVE IN CONTINUOUS IMPROVEMENT 
We believe in continuous improvement of our processes, products, and employees. All LAROS staff are progressively trained and encouraged to do further studies; products are continuously reviewed based on performance and feedback, and efforts are made to streamline our processes. This means higher quality, better service, and ultimately a better living experience.
Who We Are?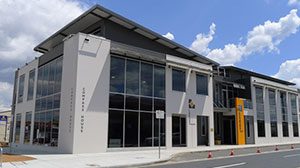 LAROS Technologies consults, designs and supplies to the low-energy building industry. We specialise in dynamic and superior building technology designed to German 'Passivhaus' standards that vastly outperform standard Australian building codes, methods and materials.
LAROS Technologies collaborate with home owners, architects, engineers, suppliers and builders on Residential, Commercial and Institutional buildings to achieve superior sustainable buildings. LAROS is an international supplier of the full suite of building technologies required to achieve Passivhaus performance.
Find out more on the About Us page.
I purchased the Sanden hot water system last year and am very happy with the results. As it is on offpeak tariffs, I can see it used only 120kwh (<$10) per bill in the warmer months and I saw no noticeable increase in off peak usage in winter (maybe 250kwh/$20 per bill?). As I disconnected my gas, it has saved me a $550pa gas bill. A great investment!
James, Gungahlin ACT
I just wanted to let you guys know the great news from some numbers I crunched last night. After the first full year since installing the Sanden Heat Pump hot water service, my electricity consumption against the average of the previous 6 full years has reduced by 32% and my electricity costs have reduced by 51%." I suspect the difference between the consumption figure and the cost figure is due to the time of day variation in charges as well as the gradual lift in electricity prices over the last 8 years.
Pat, Queanbeyan NSW
We recently installed a Sanden Heat pump. We chose Sanden for a number of reasons including it being quiet. However, we were astounded at how quiet it actually is. You had to listen hard to hear from only a few metres. It is amazing.
Peter, Ainslie ACT
Want an energy efficient house? When we finally found a builder prepared to tackle an ICF build he sent us along to LAROS – and that changed our world! Andreas took 20 minutes out of his busy schedule to sit us down and tell us about 'Passivhaus' design – we never looked back. R6 insulation at roof level wrapped in a gortex shell, taped down to make it airtight and big, beautiful, TRIPLE glazed windows and triple sealed doors from Germany. The heat exchange ventilation systems keeps us warm in winter and keeps the heat out in summer. The Sanden heat exchange hot water system and the 5KVA Solar system means power (and gas) bills are a thing of the past. We love our comfortable, economical, quiet (seriously) house. If you're thinking brick veneer don't sign until you've heard about passivhaus.
Peter, Narrabundah ACT
We've been in the house for 2 months now, and through warm sunny days, gloomy days and overnight temperatures of -6oC, the house has really shown that it is delivering on the promise. The temperature has not dropped below 19.2 degrees (even with the freezing nights) and has stabilised at a comfortable 21-23 oC during gloomy days and cool nights. The higher temperatures due to the solar gain on sunny days are easily managed through opening the clerestory windows in the living room and tilting other windows throughout the house to manage a very comfortable temperature.
Danny, Gundaroo NSW
Four Pillars of Passivhaus Performance

Passivhaus - imagine a building that is - endlessly comfortable, yet has very limited needs for heating and cooling; - fully solar-powered, omitting exposure to any energy price increase; - accommodating any architecture, while costing little more to construct; - virtually maintenance-free, ultimately keeping its market value.