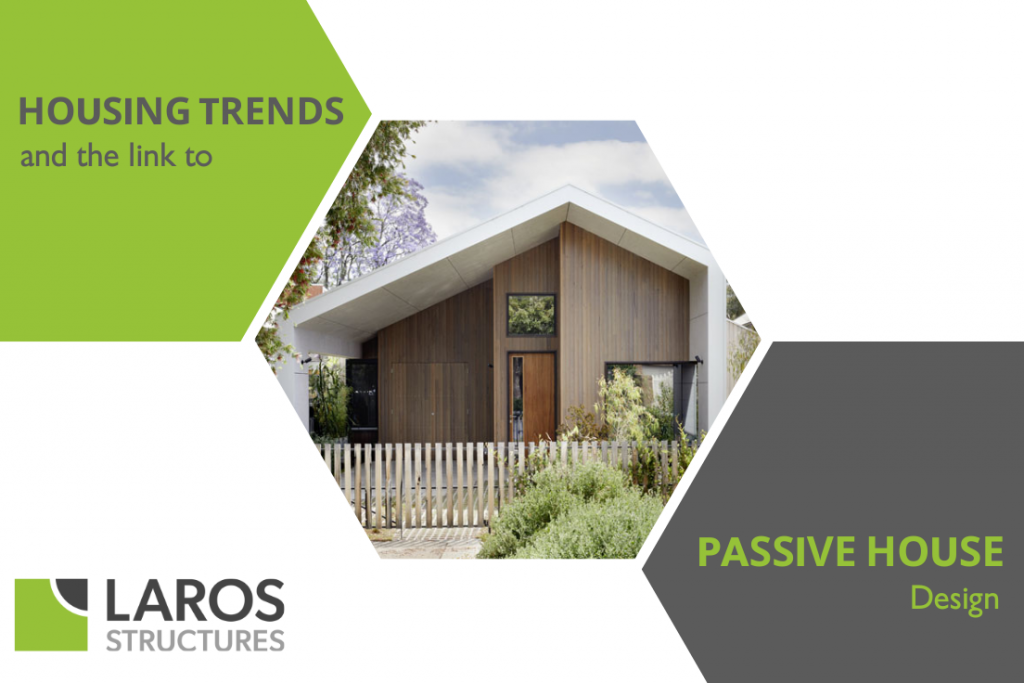 Housing trends and the link to Passive House Design
Modern house builds are changing. The key building philosophies of passive house design of correlate to the latest trends in design of individual, innovative designs and being self-sufficient or 'off the grid' both in terms of economic cost and home maintenance. The limited needs for heating and cooling, efficient use of solar power, the fact that design can accommodate to any architecture style and that passive homes are virtually maintenance free all support these trends.
Limited needs for heating and cooling
Passive house design reduces a building's ecological footprint, by reducing heating and cooling loads. We do this by addressing every part of the building envelope; Airtightness, Insulation, Glazing, Thermal Bridging and Ventilation.
The reduction in heating and cooling loads that passive house design addresses means not only a consistently comfortable temperature in your home but less reliability on heaters and air conditioners. On average, a small 1,500W heater costs around $0.38 per hour to run on high. This adds up to a total cost of $3.04 for 8 hours a day, and $91.50 per month. With the extreme temperatures that some areas of our country are having – particularly with the start of winter, the appeal and demand of limited heating and cooling needs is high for new home builds.
A key part of reducing heat loss that makes up part of Passive Home builds is airtightness and the inclusion of a vapour permeable membrane. By controlling the exchange of inside and outside air, you ensure that all the air that is heated or cooled, stays within the building envelope. This can save hundreds of dollars as we've previously explored here.
These membranes are also vapour permeable, allowing for wall and roof panels to self-dry, and therefore have no risk of condensation or rot forming regardless of external weather conditions. Therefore, a by-product of limiting the need for heating and cooling in Passive Homes is a healthy structure for the home occupants. The number of people with Asthma continues to grow – making healthy homes in high demand.
Solar-Power & Low Maintenance
As a passive house requires such a low amount of heating and cooling, the use of solar panels and batteries can result in a completely self-sufficient home. With the rising costs of electricity and living expenses the demand for being self-sufficient has never been higher. In the 12 months up to December 2021 the cost of living has increased 4.1% in regional Australia, 3.1% in Sydney and 2.5% in Melbourne making Passive House design an innovative solution to the rising cost of living.
Passive houses are designed with building physics, and the local environment in mind, resulting in much less damage from the environment in terms of condensation forming mould and rot. These principles are used to create healthier structures, resulting in buildings which can stand for a lifetime. The low-maintenance aspect of a Passive House, along with many other benefits of this design, make for the optimal self-sufficient home.
Prefabricated Passive House
While Passive House is fantastic for the Australian environment and our needs, it has only now just started to take off. This is due to the more complex nature of the build, and associated costs. This is where we can step in to help make Passive Houses easier to build, not harder.
By manufacturing with structural timber panels, including insulation, and wrapping airtight, we can deliver a Passive House standard structure to site weatherproof and ready for lockup. Great attention to detail is made during the entire design and manufacturing, including assessment of the airtightness and hygrothermal properties of the structure. This ensures a self-drying structure with zero risk of condensation or rot forming in the wall or roof under any conditions. The result is a healthy home for the occupants and building alike. We can also alter the base panel design if and where necessary to meet your particular climate or structural needs.
Want to learn more about Passive House design and how we can help with your next build? Visit structures.laros.com.au