"I really have valued your entire team's input into not just the windows but all aspects of the build project to passivhaus, and the quality of the products you offer speaks for themselves."
Cristy - Glenlyon, VIC
Why Triple-Glazed Windows & Doors?
Triple-glazing has the highest thermal performance & best noise reduction characteristics on the market.
Windows & doors are typically the weakest part of a building's thermal envelope; meaning that their performance is critical to the success of any well thought-out building design.
There is no doubt that improving the glazing of your home helps to optimise its energy performance. Triple-glazed units (TGU) have almost twice the insulative properties of double-glazed units (DGU); and whilst the financial savings to be enjoyed between double-glazed and single-glazed options are significant, the real difference in thermal comfort for you and your family comes only from triple-glazed solutions.
At LAROS we believe in supplying our customers with only the finest quality products that modern building technologies can offer.
That's why we've worked hard to keep the prices of our German made timber windows as low as possible. Currently, we are proud to exclusively offer Döpfner triple-glazed units, rather than their double-glazed equivalents, with a price increase of only ~10%.
That means you get double the insulative value, and far higher comfort levels in your home, at a very cost effective price.
Why Döpfner?
Döpfner is a family business. Since their foundation in 1906, they have remained the trusted specialists for timber windows & doors, on an international scale.
Döpfner produces 50,000 windows per year, all of which are made from sustainably-harvested timber and recycled aluminium, in their advanced manufacturing facility in Germany.
Each unit is individually customised to meet the specific needs of home owners and architects around the world.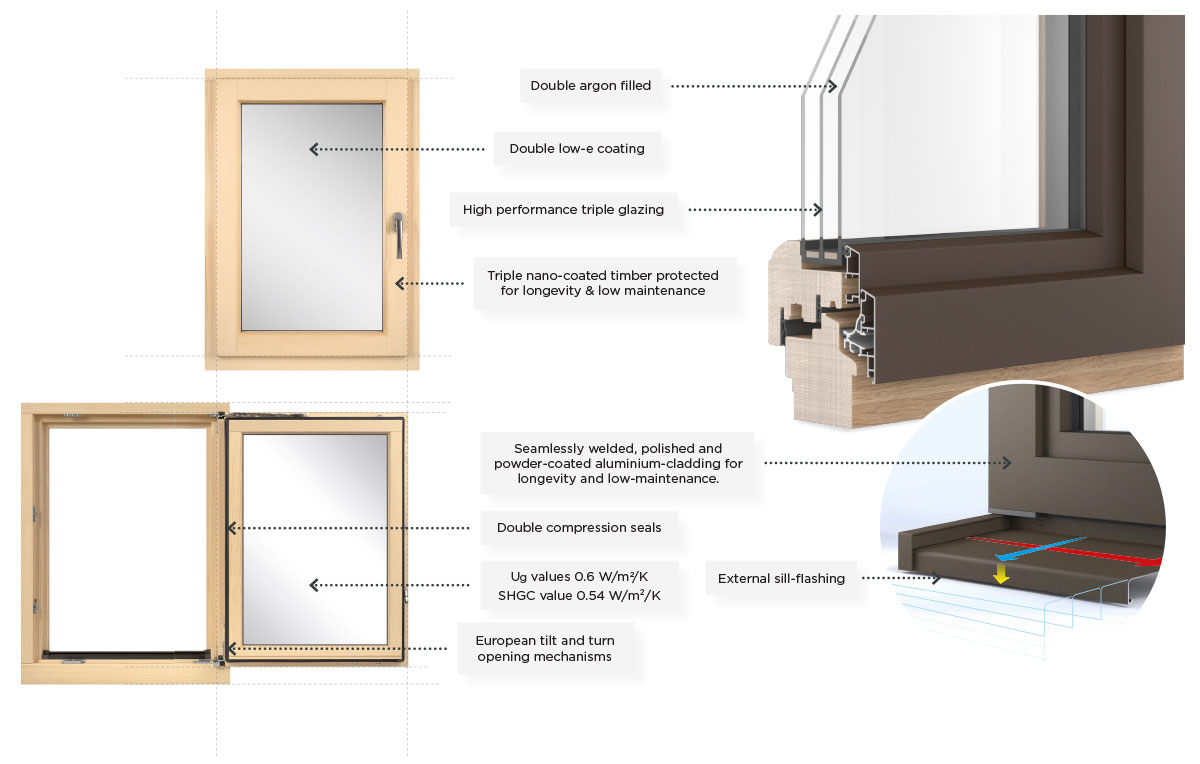 SGHC: The Solar Heat Gain Coefficient (SHGC) is a measure of how much energy (specifically solar heat) from the sun passes through a window.
Common Misconceptions Surrounding Glazing Options
Misconception 1: Triple glazing is 'overkill' for Canberra.
In fact:
• Triple-glazing is almost twice as insulative as double-glazing. If insulative performance is your critical measure, the superiority of triple-glazing is indisputable.
• Triple-glazing is also far more effective in terms of thermal comfort.The inside pane of a triple-glazed unit is much closer to room temperature than either a double-glazed or single-glazed unit. This helps to prevent 'cold spots' and resulting drafts, making the room feel warmer and much more comfortable.
• Building health is improved. Triple-glazing reduces the likelihood that condensation will form on the inside surface of the glass. This helps prevent mould growth and other building damage due to moisture.
Misconception 2: Triple-glazing will make my house too hot.
In fact:
It is true that the insulative properties of windows work both ways; and that much wanted heat retention in the cooler months, may not be so desirable in the summer.
However, it is important to note that triple-glazing also works to keep the heat out during the summer (specifically, preventing conductive or thermal heat gain).
The overheating issue in summer is largely the result of solar heat gains (from incident sunlight). Solar heat readily passes through the glazing to enter the house, but once inside it becomes 'trapped' and is unable to leave due to the insulative quality of the glass.
This issue is easily addressed by incorporating intelligent shading solutions into your fenestration designs.
Misconception 3: Northern-facing facades should be constructed from single glazing in order to maximise solar heat gain in winter.
In fact:
Whilst it is true that single-glazing will allow you to maximise your solar heat gains, it will similarly do very little when it comes to retaining them. Döpfner's quality triple-glazing allows significant solar heat gains, whilst minimising thermal heat losses.
For example, whilst replacing single-glazing with triple-glazing reduces solar heat gains by around 50%, it will also reduce heat losses through the window by a massive 85%. This gives an overall improvement in energy performance when compared to single or double glazing.
Suggested Further Reading