Cross-Laminated Timber (CLT)

Pollmeier BauBuche Timber
The high surface quality makes BauBuche ideally suited for visible construction elements and the cost-efficient manufacturing technology places structures using BauBuche at the same price level as conventional softwood structures.
Extremely versatile
High load-bearing capacity combined with slim dimensions
Suitable for large spans
Exceptional surface quality
Locally sourced raw material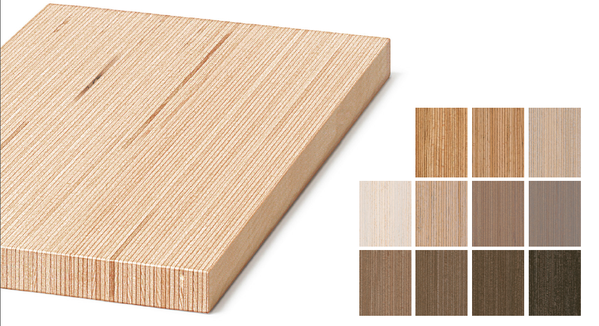 The University of Munich develops the first multi-storey car park construction system using timber.
Production Process
Resource-conserving high-tech production
Beech from sustainable forestry, peeled, laminated, pressed, tailored and finished to be a universal wooden flooring.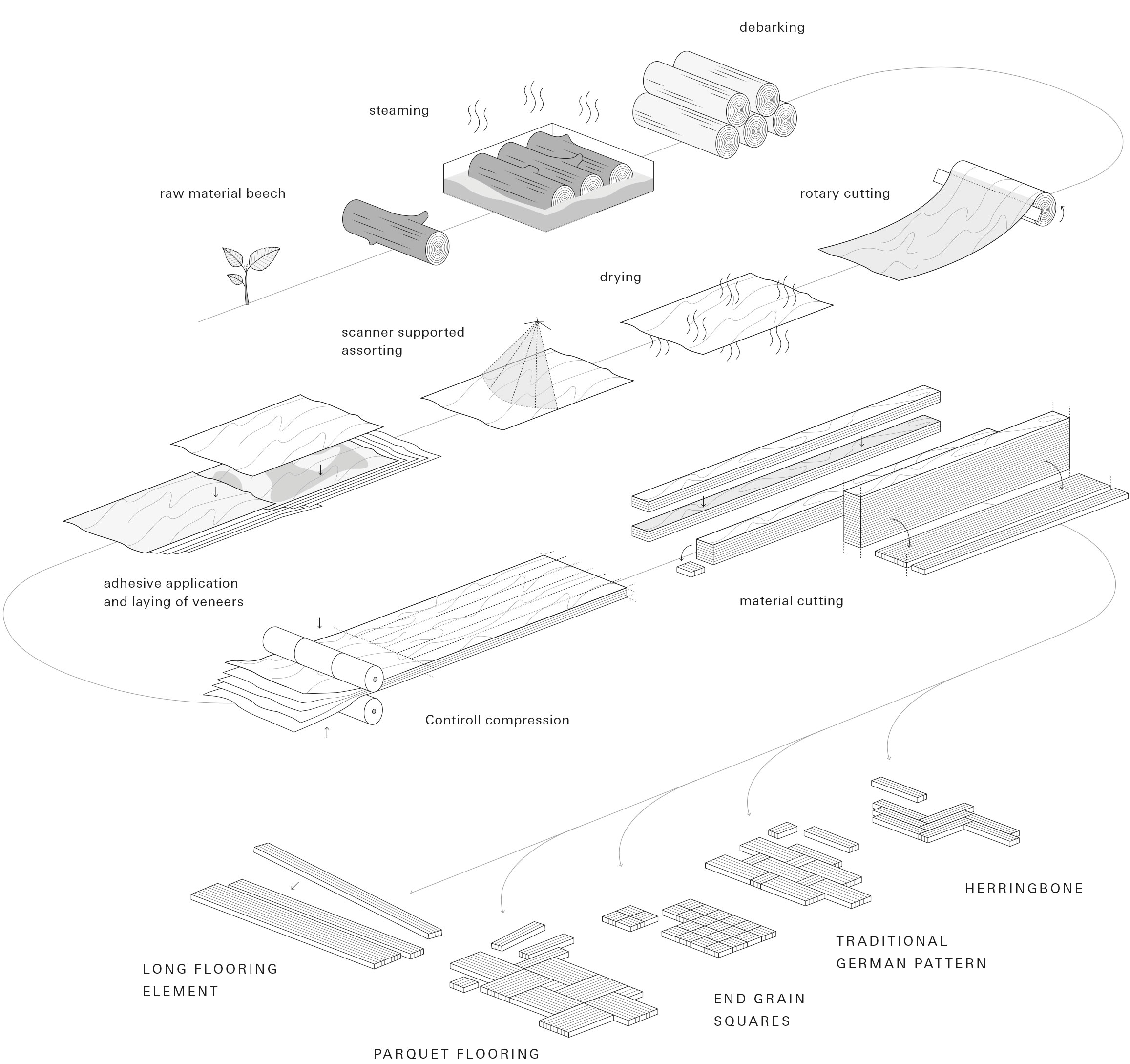 Why Choose BauBuche?
Beech is a hardwood in plentiful supply from sustainable forestry in central Europe. It has outstanding technical properties, e.g. much greater load-bearing strength than softwood, so it made perfect sense to utilise this resource in timber construction.
However, the conventional method of converting beechwood into a building material, e.g. in the form of glued laminated timber (glulam) proved too expensive due to the higher cost of cutting and the longer drying time. BauBuche is less expensive to make, so the cost of construction with BauBuche is equivalent to conventional softwood products.
Production of laminated veneer lumber (LVL), in particular, ensures efficient utilisation of the raw material and permits a high degree of automation with modern technology.
The key difference between BauBuche and other laminated veneer lumber products is the type of wood. The use of beech gives considerably higher strength than with any other LVL products, a superior surface quality and the more elegant hardwood look. Unlike plywood, BauBuche is designed specifically for use in timber construction. The veneers are therefore predominantly aligned parallel to the grain so as to give a main load-bearing direction. Laminated veneer lumber with approx. 20% cross-layers is also produced to give greater transverse strength. Another difference from plywood is that laminated veneer lumber is supplied in much larger sizes.
At present Pollmeier is the only producer of beech laminated veneer lumber worldwide. The beechwood round timber is sourced exclusively from sustainably managed forests, and mainly purchased from within a 150 km radius of the Pollmeier plant. The veneers are produced on state-of-the-art peeling machines in Creuzburg, Germany.

KLH Cross-Laminated Timber
Cross-laminated timber (KLH, BSP, CLT, X-LAM, Cross-Lam) is made from spruce slats stacked atop of each other which are bonded using high press force and formaldehyde free adhesives to form large-format building elements.
The elements are structurally-ready construction elements and are used as wall, ceiling and roof panels in solid timber construction projects. Thanks to the cross-wise structure of the longitudinal and cross-slats, wood expansion and shrinkage in the panel plane is reduced to an insignificant minimum. At the same time, this raises the structural load capacity and dimensional stability in the panel plane.
In accordance with the European Technical Approval, technically dried timber with a wood humidity of 12% (+/- 2%) is used for the manufacture of KLH solid timber boards. Destructive vermin, fungi or insect infestation is thus excluded. KLH solid timber boards are regarded CE certified building materials. The raw slats used are sourced from sustainably forestry and are either PEFC or FSC certified. In our modern production facilities, the elements are exclusively produced in a project-related way. The thickness of the elements and the number of plies used mostly depends on the structural and fire-protection requirements. On the basis of approved production plans, the elements are cut using state-of-the-art CNC systems. The elements are delivered directly to the construction site on a just-in-time basis, either by lorry or in a container. On location, they are mounted by the expert personnel of a timber construction company or that of a construction company using a construction crane.
Product Advantages
Ecologically sustainable building material
Recommended in terms of building biology
Positive ecobalance
Healthy, comfortable room climate
Solid wood construction with lasting value
Freedom in architectural implementation
Flexible design without a grid pattern
Compatible with steel, glass and other materials
Excellent static properties
Increasing space thanks to slender construction elements
.
Technically approved and CE certified building product
Quality controlled production
Prefabricated elements with high dimensional accuracy
CNC controlled cutting of the elements
Delivery directly to the construction site
Easy to install
Short construction period
Dry construction method
Buildings are ready for occupancy in a short time
Maximum Size
Maximum length 16.50 m
Maximum width 2.95 m
Maximum thickness 0.50 m
Minimum production lengths 8.25 m, respectively in
10 cm increments up to the maximum length
Produced widths 2.40 / 2.50 / 2.73 / 2.95 m
On request 2.25 m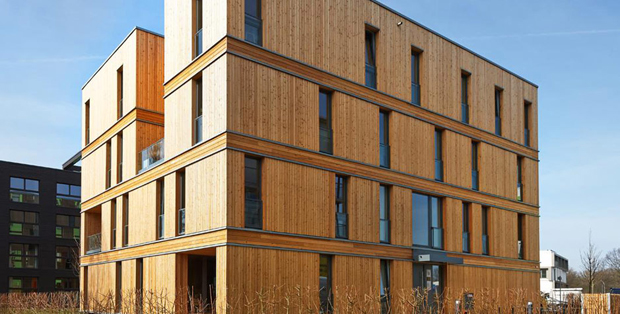 Surfaces
KLH solid wood panels are offered as standard in non-visible quality, industrial visible quality and domestic visible quality. Special surfaces can be provided on request.
Areas of Application
KLH solid wood panels are used both as load-bearing, reinforcing elements and non-load-bearing elements.
Detached houses and apartment buildings
Multi-storey residential buildings
Public buildings
Hotels and restaurants
Retirement homes
Schools and kindergartens
Office and administrative buildings
Event halls
Industrial and commercial buildings
Reconstructions and extensions
Bridges