LUNOS Decentralised Heat Recovery Ventilation
LUNOS decentralised heat recovery ventilation (HRV) systems provide fresh, clean air to your building, without losing valuable heat (or coolth).
Decentralised systems do not require ducting, and are therefore much easier to install. This makes them perfect for retro-fittings, or buildings that simply do not have space to install a centralised ducting system (for a new build, or existing home with ample access to a roof or floor cavity, centralised systems may be more suitable).
"Condensation would not occur if humid, moist air could be removed and replaced by drier air. This can be achieved, usually very simply, by better ventilation of the home."
The Benefits of Decentralised (non-ducted) Ventilation
Retrofit Ready.
With no complicated ducting runs required, the decentralised systems are quick and easy to install.
Compact Design.
Decentralised systems are the perfect solution if your building design does not allow space for a large centralised unit.
Quiet operation.
Smaller & lower power fans make less noise than larger and more powerful centralised systems.
Efficiency.
The ductless system leads to an inherently lower pressure drop, which requires smaller fans, and generally results in a more efficient system.
Versatility.
The units can be installed in areas where ducting may not be able to travel.
Redundancy.
Because the units are independent, in the unlikely event that one unit fails, the other units in the team will have you covered.
Personal Health
Gases, toxins and pollutants can cause concern in poorly ventilated buildings. ERV provides clean, filtered air; whilst discharging stale air and toxic gases; and maintaining optimal indoor comfort levels, all year around.
"Examples of toxic substances include:

Carbon Monoxide, Sulphur dioxide and nitrogen oxide from heating and cooling

Airborne toxins from household cleaners

Pollen, dust and dust mites


Volatile organic compounds (VOCs) and formaldehyde emissions from furniture, carpet, finishes and building materials."
- Your Home, Australian Government
Building Health
Thankfully, buildings in Australia are finally becoming better insulated and much more airtight than they used to be.
However, with this highly improved thermal performance the risk of moisture buildup also increases. Household activities such as clothes drying, washing, cooking and showering introduce further moisture to the indoor environment. High moisture and condensation levels inside a building's fabric are highly concerning as they can lead to mould, mildew and decay, amongst other structural issues.
These issues can be easily addressed by intelligent building design, which includes suitable ventilation systems with temperature and humidity controls.
The Nexxt generation in decentralised recovery ventilation
Low energy consumption
5W at the lowest setting of 15m3/h
45W at the highest setting of 112m3/h
High heat recovery efficiency with two heat exchange options to choose from
90% with counter-flow heat exchange
75% with cross-flow heat exchange
Whisper quiet operation: well below 20dB for settings of up to 30m3/h.
Clean air. Standard M5 filters (with the option to increase to M7 or M9) for bacteria filtration.
USB port for firmware updates, and addition of wireless sensors, motion detectors & switches.
WiFi capability for smart technology control.
Intelligent automatic sensing of humidity and temperature as standard (CO₂ sensor optional).
Input port for addition of external switching.
Adaptability for dual room operation (employing flat-duct accessories).
Designed for high-performance Passive House buildings (fully air-sealed & insulated).
Automatic or manual close-off damper.
Suitable for retrofits.
LUNOS Touch Air Comfort (TAC)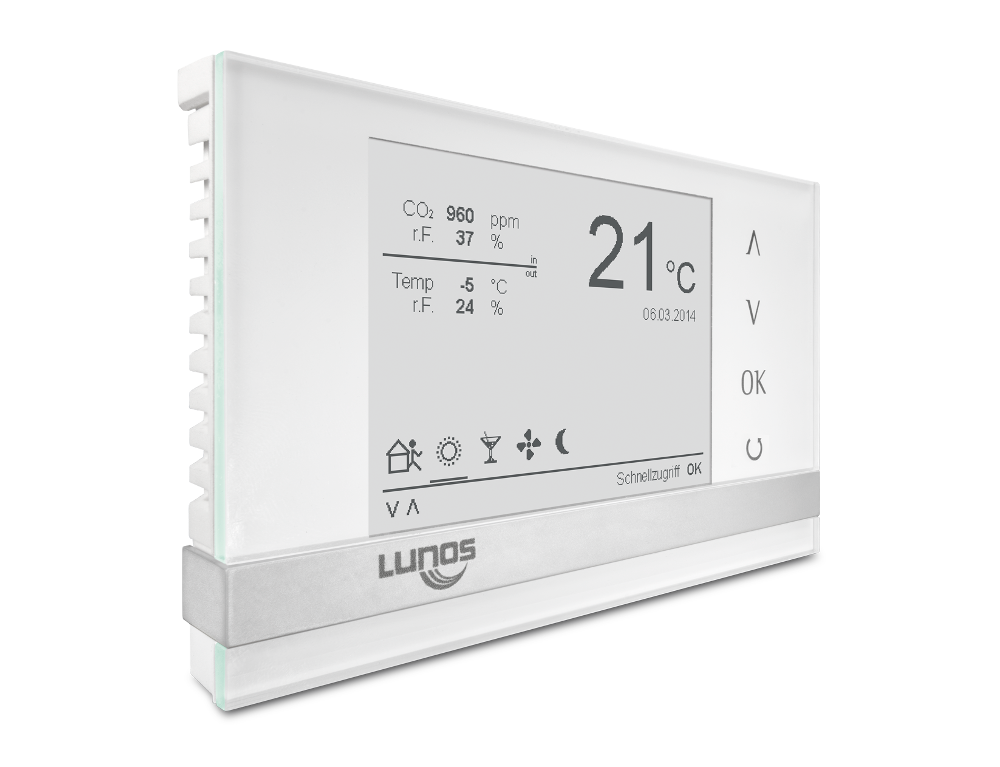 The LUNOS TAC is a powerful multi-function controller that monitors, manages & optimises your LUNOS ventilation systems and displays important information at a glance.
E-Ink display for lowest power consumption
Integrated humidity/temperature sensor (CO₂ module SCO₂-TAC can also be connected)
Direct operation of up to four e² or two ego or one RA 15-60
Silvento fans can be directly connected and controlled via the low volt input
All Silvento AC fans and AB 30/60 can be connected via the additional 5/ACM
Further devices can be controlled via connected universal controls
Comfort functions such as night reduction and summer ventilation
Functions for humidity and frost protection
USB interface for export of recorded ventilation data, software-updates and language options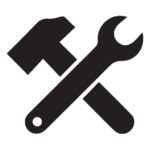 LAROS Technologies is the proud supplier of LUNOS in Australia.
Whilst we are unable to install the units for you we are more than happy to assist your preferred electrical or air conditioning contractor. If they are not familiar with the LUNOS product family, please invite them to visit or to contact LAROS to learn more.
Ask your preferred electrical or air conditioning contractor for an installation quote today.
The LUNOS Story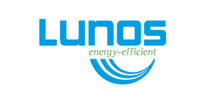 LUNOS is a long-established Berlin company and has been known worldwide as a manufacturer of innovative and energy efficient ventilation systems for more than 56 years. LUNOS engineers are constantly working to develop new devices for efficient use in apartments and buildings. This is how LUNOS has managed to establish itself not only as the market leader for energy-efficient ventilation units, but also as a reliable partner whose clients can always be sure of the quality and durability of its products.
The core competencies of LUNOS lie in the field of controlled home ventilation with and without heat recovery and the development and manufacture of energy-efficient fans and outer wall air vents. Furthermore, LUNOS develops all associated components and many other products such as exhaust fans and façade ventilation systems with hidden vents. LUNOS also provides services such as technical advice and the creation of ventilation concepts.