Villavent Centralised Energy Recovery Ventilation
Villavent centralised energy recovery ventilation (ERV) systems provide fresh, clean air to your building, without losing valuable heat (or coolth).
Decentralised systems are ideal for moving large volumes of air in new buildings, or existing buildings that have ample access to a roof or floor cavity (for more complicated retro-fitting scenarios, decentralised systems may be more suitable).
Because centralised systems are based off one main unit: with one set of moving parts, one central filter, and one silencer; there is arguably less system maintenance required.
Operating from the core values of simplicity and reliability, the Villavent business concept is to develop, manufacture and provide high-quality ventilation products.
Villavent produces high-quality heat exchangers, which recover heat using direct contact rotating wheel technology.
The units also include a bypass option to incorporate rangehood extraction, and a number of other heating and control options are also available.
The SAVE range of energy recovery ventilation units is produced in Sweden to the highest international standards.
Rotary Wheel Heat Exchangers (VSR & VTR)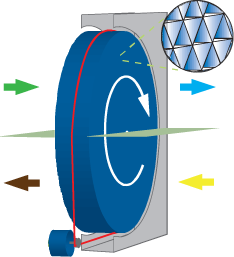 86% Heat Exchange Efficiency
The structure of the rotary wheel heat exchanger and continuous rotation between hot and cold air flows heats the exhaust air wheel, which transfers outgoing warmth to the cold supply air during winter time. The effect can be reversed in summer time by transferring the incoming heat from the outside air into the exhaust air and rejecting it from the building, which provides a cooling effect on hotter days.
More humidity transfer with a condensation rotor
The thermal wheel heat exchanger consists of pure aluminium, which transfers humidity exactly when condensation appears on the exhaust air side, and is absorbed by the outside air. With high air temperature differences, the unit can reach humidity return values up to 60%. During winter time the rotary wheel heat exchanger transfers humidity when required, which minimises excessive dry air in the indoor environment.
Rotary wheel automatic summer by-pass
The integrated controls automatically switch the heat exchanger rotary wheel on & off, which helps to keep your property cooler in the summer months.
Counterflow Heat Exchanger (VTC)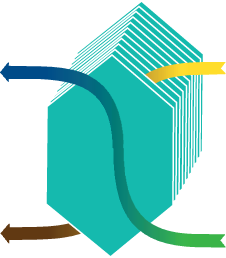 90% Heat Exchange Efficiency
Counterflow heat exchangers push air flows through parallel plates arranged in a row.
The supply air and exhaust air flow alternatively between the fins for maximum energy transfer area without actually mixing the two air flows. Warm air flow transfers its energy via the plate to the cold air flow. The same mechanism also rejects excess heat from outside during the hotter months.
Less humidity transfer with a counterflow core
Excess drying of the internal environment can be a risk with counterflow heat exchangers. A small amount of moisture can be transferred through the fins of the heat exchanger via diffusion which can reduce the excess drying of the internal environment.
Counterflow automatic summer by-pass
The integrated controls automatically opens a bypass damper around the counterflow core, which helps to keep your property cooler in the summer months.
Air-flow Capacity Table

Benefits
Fresh, filtered air 24/7
Excellent heat recovery efficiency
High quality filtration
Low energy motors (EBM-Papst EC motors)
Automatic summer by-pass
Quiet operation
User friendly controls
Easy to install & maintain